Northern Ireland, one of the most beautiful countries I have been to. The cliffs are magnificent, people are very kind and the country is easily accessible from Europe and the rest of the world. No wonder it made it to the top of the most popular wedding destinations list.
The country is recently known for the popular HBO series called 'Game of Thrones'. GOT are a fantasy series and an adaptation from a novel written by J. R. R. Martin. The show has won numerous prizes as well as the hearts of many people from all around the globe.
Can't wait for Game of Thrones, Season 8? Me too! The waiting game seems to take really long when all we want is to see Daenerys, Jon Snow, and (my personal favourite character) Queen Cersei back! While you wait, you might consider re-watching the series or… go to Northern Ireland for the Game of Thrones Tours, where you would be able to see the majority of shooting locations.
There are over 27 places in Northern Ireland where the episodes of Game of Thrones were filmed. I had a please to visit some of them in May this year…. and I automatically thought about destination weddings or magical elopements!
I guess it's easier to assume that the production team used the green screen tech to film unbelievable GOT scenes, like those inside a castle, on the edge of a cliff, in the middle of a desert, and along a wild, rugged coast! These places just look so unreal that it's hard to believe they are actually existing somewhere along the green and mountainous landscape of Northern Ireland.
What is more important is…. they are open to the public!
Contrary to what you might think, these places are not exclusive. Most of them are open to the public so you can pay a visit – with or without a tour guide. Most of them are easily accessible.
In fact, some of our couples did not just pay a visit to these places but they had their wedding photos taken in these GOT filming locations during their Northern Ireland elopement!
In Ireland, the procedure to get married is…. not so complicated as it is in some of the countries I have travelled to.
If you are from the UK, European Economic Area or Switzerland the conditions are :
both parties are at least 16 years of age on the day of their marriage – anyone under 18 will need permission from their parent or guardian, or if appropriate a court order to allow the marriage to go ahead
they are not related to each other in a way which would prevent their marrying
they are unmarried (any previous marriage must have been ended by divorce, death or annulment)
they are not of the same sex
they are capable of understanding the nature of a marriage ceremony and of agreeing to the marriage
If you are not the UK, EEA (European Economic Area) or Swiss national you will need to complete an Immigration Status Statement before you can marry or form a civil partnership in Northern Ireland. This form is accessible either from an embassy or online. Be patient and considerate of time. Read more about it here.
Oh well, let's talk about something really inspiring…
In today's article, I am going to tell you about the locations I visited. I really think they would make a perfect background for a boutique wedding, magical elopement or a wedding photo shoot!
I was inspired by my Game of Thrones trip in May this year, by the GOT costume designer Michele Clapton, and by the recently discovered editorial at mashable.com. They introduced an amazing work by Katherine Elena. She shot Katie Lee for the Game of Thrones themed wedding. The results are really… wow. Elena helped to design the wedding shoot to be very accurate. What are the results? See it yourself :
I didn't dress up for the article (I wish I did!), but I have something equally amazing prepared for you. I took loads of photos and notes during my last Northern Ireland trip, so here is the complete list of Game of Thrones shooting locations, perfect for your BIG DAY.
Cairncastle = The Neck & North of Winterfell
Quite a breath-taking Irish view! The plateau is located above a Bronze Age fort. It is the area where Ned Stark sentenced the Will of the Night's Watch to death in the Season 1 Episode 1. The same location was also featured in Season 5 as a place where Littlefinger convinced Sansa to marry Bolton. What I really found useful is the handset of screens that HBO provided in order for people to know about the filming locations.

There is a lovely the Hotel called Ballygally Castle, not too far away from Carincastle (15 minutes driving). I would really recommend stopping by for their iconic 'Game of Thrones' Afternoon Tea. You will be able to taste Jon Snow Cakes (freshly baked scones), Baratheon Bread (toasted fruit loaf), Ham&Targaryen Mayonnaise on Batch Bread, Sansa Stark's Lemon Cakes or Dothraki Trifle with Mini Dragon's Eggs. The price is £24 per person.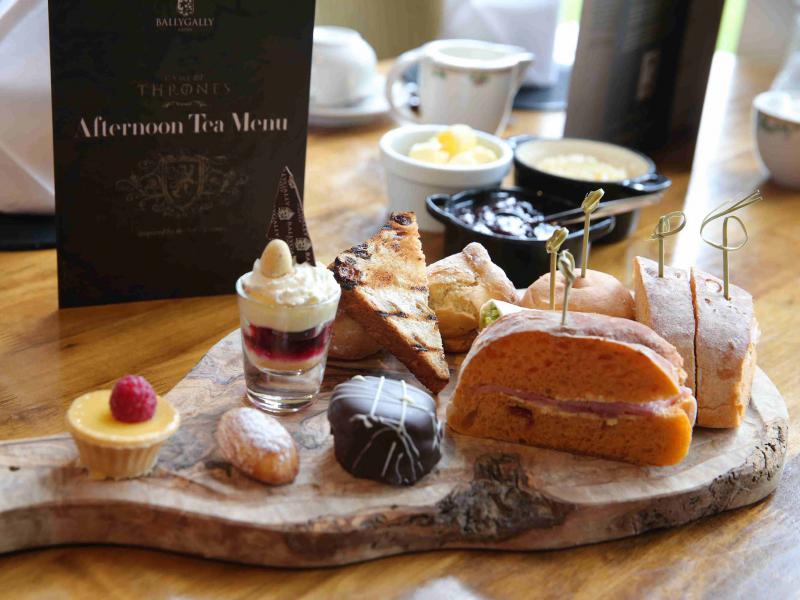 A wedding at Ballygally Castle would be a fantastic option for Game of Thrones-themed wedding as well! You would be able to accommodate your beloves guests so near the GOT filming locations – is it not great?
'The castle's towers and turrets, open fires, original beamed ceilings, elegant bedrooms and enchanting gardens add to the romance and make this an idyllic venue for fairytale weddings. The beautiful walled gardens also provide a stunning backdrop for alfresco celebrations, drinks receptions and photography.'
Ballygally Castle is a 17th-century venue with over 60 years of wedding experience, which means they really do it great. There are not a lot of venues that would last the test of time. The hotel is even licensed to hold Civil Ceremonies.
'At Ballygally Castle you're the King and Queen. With a one wedding per day policy, it's your exclusive wedding wonderland in a truly unique County Antrim wedding venue. The dramatic backdrop of the Irish sea, mountains and rugged cliffs just add to the character and charm of the Castle itself – a stunning spot for wedding photographs.'
As for the prices and packages, the set menus are the cost between £42 and £60 for a chic selection of great dishes, including Prime Sirloin of Northern Irish Beef served in a Shallot and Red Wine Jus and Yorkshire Pudding or Organic Salmon with Lemon and Dill Cream Sauce. You could make, however, your Game of Thrones wedding as customized as possible – how about including Jon Snow Cakes (freshly baked scones), Baratheon Bread (toasted fruit loaf), Ham&Targaryen Mayonnaise on Batch Bread, Sansa Stark's Lemon Cakes or Dothraki Trifle with Mini Dragon's Eggs as a starter?
Here is a sample wedding menu at Ballygally Castle:
Ballygally Castle is very spacious and appropriate for both – a boutique and 'big fat' wedding. The magnificent Kintyre Ballroom, offering panoramic views over the Irish Sea, and the more intimate 1625 Room both offer the highest levels of service and an extensive range of bespoke wedding packages. Kintyre Ballroom & Shaw's Lounge is simply perfect for the large GOT battle – with the capacity of 180 guests while the smaller 1625 Room, where you could fit 36 members your beloved friends and family, is an ideal venue for Stark elopment. The cost of the first one is £1000 high season/£600 low season on Friday and weekends and £500 high season/ £300 from Monday- Thursday. The boutique room is not available on weekends and Friday but the cost from Monday-Thursday is £360 high season/ £150 low season. The cost of your ceremony is £350 at Kintyre Ballroom & Shaw's Loung and £250 at 1625 Room. As you can see the prices depend on a season. May to September is a high season in Northern Ireland and definitely the most beautiful period to visit the country. Winter, on the other hand, is a proper Game of Thrones season, so why not to throw a party in December?
I have fallen in love with Ballygally Castle the moment they served their iconic Game of Thrones afternoon tea. I am sure they would make your Got wedding plans a reality!
Cushendun Caves = A Cove in The Stormlands
The Caves were formed over 400 million years ago and are undoubtedly one of the top attractions in the area – not only because of the Game of Thrones. They are quite easily accessible from the local villages and placed 'on the road' through the majority of the GOT shooting locations. In the Series, it was the place where Melissandre gave birth to the Shadow, which goes on to kill Ranly. It was the creepiest scene in the whole GOT series if you ask me…
The Dark Hedges
This beautiful avenue of beech trees was planted by the Stuart family in the 18th century to impress visitors as they approached Gracehill House. Well – to me it looks like a fairytale forest and it does make a huge impression. The Dark Hedges was used in Season 2 Episode 1 as Arya and Gendry escape Kings Landing along the Kingsroad. The Dark Hedges has always been quite a popular spot for the photographers. Moreover, Gracehill House remains open for public and makes of a perfect wedding venue <3
As for the dark hedges elopement or wedding, I know someone you could talk to! I have discovered Weddings at Tiffany's while doing my research on the Darke Hedges weddings and elopements. The pictures I found were really astonishing, they really made me WOW. I can definitely see Weddings at Tiffany's handle a great and funny Game of Thrones-themed wedding there! The wedding planners have years of experience as well as have won several prestigious prizes, such as The Wedding Journal Readers Awards for Styling in 2015, and scored the first place at the Northern Ireland Wedding Awards in 2016 and 2018! Ciara, who is the owner, is very passionate about what she does. Only by looking at her work one could tell the brand is very professional and are treating their clients individually, with a different approach to every couple. I am sure they would be thrilled to organize Game of Thrones-themed wedding or elopement!
'Ciara was so helpful with advice & ideas and very creative staying inside my price range. She made herself readily available.'
Orla Farmer
Prices and packages :
Bare in mind all the prices can vary and would depend on the number of guests, your needs, the menu as well as the extras. For your Game of Thrones wedding, I would suggest to contact Ciara and talk her though your ideas. She will definitely come up with the best solution!
Murlough Bay = Slavers Bay & Renly's Camp
Some of the sights are so magnificent and photogenic that they are used more than once – Murlough Bay was one of them. It is placed among Europe's most beautiful driving roads – the wild windswept cliffs! It is where two Baratheon brothers Stannis and Renly confronted in Season 2 Episode 4 and where Tyrion and Jorah were captured by the slavers in Season 5 Episode 6. The area and the views will definitely leave you speechless.

Larrybane = The Stormlands and Nagga's Hill
This dramatic headland was used in Season 2 Episode 3 as Renly's camp. In Season 6 Episode 5 it was the setting for the Kingsmoot, where Euron Greyjoy was chosen as  ' the King of the Iron Islands'.
Carnlough Harbour = Braavos Canal
Carnlough is a small harbour situated in a small coastal village. The place was used in Season 6 Episode 7 for…. around  20 seconds! It was when Arya 'emerged' from the water after being stabbed by the Waif, and crawled up the harbour steps onto the streets of Braavos. As a matter of fact – Braavos was shot in Girona, Spain. The crew headed to Carnlough in order to shoot this particular scene. The whole village looks like it was taken from a fairytale, with all the colours and the sea.
Dunluce Castle
Dunluce is a 16th-century castle, perched on the cliff edge and partly fallen into the sea. Dunluce castle was used for the establishing shot of Harrenhal castle when Robb Stark and Roose Bolton arrive to witness scenes of devastation. It is also home of Greyjoys in the Season 5/6.
Fair Head = Dragonstone
Fair Head rises 600ft above the sea level and is definitely… quite hard to oversee in this part of Ireland. It was used as Dragonstone in Season 7.
Castle Ward = Winterfell
It is a charming area with gardens and woodland, where many scenes were shot in Season 1. The way from Belfast to 'Winterfell' is also fun, as you will get a ferry across 'the Narrows'.
The afternoon trek at Castle Ward Estate takes around 1 hour 30 minutes (3km). The locations include Winterfell, 'The Twins' and Robb's camp locations. There is nine Game of Thrones® film locations on site, all close together. Other classic scenes filmed nearby include the spot where Brienne of Tarth dispatched three Stark bannermen and the Battlefield of Baelor, where she dragged Jamie Lannister back to Kings landing as well as where Robb Stark and Tallisa discussed him marrying one of Walder Frey's daughters.
You could also see your favourite scenes from the series on a cycle tour!
On your way back from the Starks, you could also visit The Cuan, which is the GOT-themed 4 star hotel offering 'Game of Thrones Banquet'. It is one of a kind experience! You will be able to taste some Winterfell inspired dishes, such as honeyed roasted chicken with roasted onions in Gravy, Hodor's Beer and King's Gold Mead (wine, which is my personal fav!). The Cuan served as a base for the actors during filming all the 'Winterfell' scenes in Season 1. You might be lucky enough to sleep in Jon Snow's room 🙂
Audley's Field = Rob Stark's Camp/ 'The Twins'
Situated in the Castle Ward estate, Audley's castle overlooks the waters of Strangford Lough. It is, the way I see it, quite an idyllic view – especially during this time of the year. You can actually feel like you were in the Game of Thrones! The tower was used as Walder Frey's twins in the series.
Tollymore Forest – Lands Around Winterfell
Tollymore was used more than twice in the first Season. It was where Ned Stark and his sons found the dead direwolf and the pups in the pilot Episode. It was also where the Nights Watch were 'attacked' by the white walkers, also the pilot Episode. Finally, it was where Tyrion and Jon Snow stopped on their way to the wall.
Tollymore Trek takes 1 hour 45 mins and requires good fitness 🙂 Some inclines are uneven surfaces. Game of Thrones tours provides 'the Stark cloaks' for some really cool photos.
All of those places are unique and… are simply just waiting for you!
The views are magnificent, but there is still one very very important factor that is missing….
….Yes, you do need a professional photographer who would make your Big Day last the whole life! After all, the photographs are always the best gift the couple could receive.
I am really impressed by the work of Michael Love Photography. Michael is an Irish photographer with a great eye for both – the Irish landscapes and details. He really knows how to capture THE moment, which is not always easy. Michael is inspired by his own adventures and experience, such as travelling through Australia, sitting at the edge of the Grand Canyon and his own destination wedding in Rome. His goal is to make the couples happy with the outcomes of his work and to make the experience as enjoyable as possible. He will definitely make your Game of Thrones wedding photos unique, special and one of a kind! Michael seems very understanding, listens to what people say and is very creative!
As for the prices and packages, Michael is open to every suggestion, every idea and is very considerate of the couple's budget. Contact him and talk to him through your ideas: hello@michaellove.co
Michael's Instagram page here.
Game of Thrones themed wedding is a great and unique idea for the couples with a sense of humour and for the ones who love the series. There are loads of opportunities and beautiful locations in Northern Ireland. I hope I managed to inspire some of you and pointed out some inspiring people to work with.
Whether you decide on such venture or not, remember to not necessarily follow the Game of Thrones main character's faith and love and cherish each other until the day after forever 🙂